This is an old article but good still.
Asia Frontier Capital's Pakistan Travel Report
Summary
Power supply and "law and order" have improved significantly since our last visit 4 years ago.
The "China-Pakistan Economic Corridor" [CPEC] can be "THE game changer" for Pakistan's economy.
Direct investing in Pakistan is still difficult for foreigners.
In line with our process of being on the ground in the countries we invest in, Thomas Hugger, CEO of Asia Frontier Capital and Fund Manager for the AFC Asia Frontier Fund, travelled to Pakistan last month to attend an investor conference and independently conduct company visits.
I had the opportunity in early October 2016 to attend a three-day fund manager conference organized by one of our Pakistani brokers in Lahore (one day) and two days in Karachi, followed by my own visits to some of our investee companies and a number of promising companies pinned down by our research efforts.
My last trip to Pakistan was nearly 4 years ago and this conference was a good opportunity to see as many as 19 companies in the country itself and to meet with their senior management. Obviously, my wife was not exactly thrilled when I told her about this upcoming trip since there is negative news about security issues in Pakistan more or less every week in the international press.
However, this is only one side of the story and being on the ground in Pakistan gives a different impression than what is usually portrayed in the media. This is the reason why we have been able to find some of our best-performing stocks for the fund over the past few years as many well-known and well established companies with good track records have simply been ignored because of the surrounding "noise."
Organizing this trip was already a little bit of a challenge since major Asian airlines such as Cathay Pacific (OTCPK:CPCAY) (OTCPK:CPCAF), Singapore Airlines (OTCPK:SINGY) (OTCPK:SINGF) (SPAAF.PQ) and even Malaysian Airlines stopped servicing Pakistan despite its population of some 180 million+ people. Even Pakistan International Airlines [PIA] stopped flying to Hong Kong despite the fact that about 40,000 Pakistanis are living there. Fortunately, Thai Airways (OTCPK:TAWNF) (OTC:TAWNY) (OTC:TAWUF) continues servicing Pakistani cities including Islamabad, Karachi and Lahore.
When I was waiting in Bangkok at the gate to board the Boeing (NYSE:BA) 777 aircraft to Lahore, I was basically the only non-Asian passenger, and a Chinese businessman who has a motorcycle production plant in Lahore asked me if I really intended to visit the city since he had never seen a Western face on this particular flight despite taking it once a month for several years. Once seated in the plane it became rather obvious that the front half of economy class was mainly occupied by Pakistani travellers and the back half of economy class (where I was seated) mainly by Chinese workers.
Our flight arrived in Lahore late at night. Immigration went quickly and smoothly, and a few minutes later, I was on my way to the hotel by taxi. We had to drive through the busy streets of a residential area of Lahore, which with about 10.3 million people, is the second largest city in Pakistan and the capital of Punjab Province, which has 101 million people and is the most populous province in Pakistan. Lahore is also referred to as the "City of Gardens," but unfortunately, I was unable to enjoy much in the way of sightseeing during my less than 24 hours in the cosmopolitan city.
The city has a large Christian population and hosts some of the holiest Sikh sites, therefore being a major Sikh pilgrimage site only 24 kilometers away from the border with India. Lahore also used to host the second largest stock exchange in Pakistan, but on 11th of January 2016 the Karachi, Lahore and Islamabad Stock Exchanges were merged into the "Pakistan Stock Exchange" [PSX] which is headquartered in Pakistan's financial capital, Karachi.
Interestingly, my taxi driver could not take the direct way to the hotel since the road passed by an army installation and foreigners are not allowed to go through the area. When I finally reached the hotel, I had to go through two security checks before entering the fortified Pearl Oriental Hotel.
The next day, our group (six fund managers from the U.S. and myself) visited five companies in the neighbourhood of the hotel by car. Unfortunately, we did not see any of the beautiful sightseeing spots since they are located in the old city centre, and the companies were all situated in a newer area near the airport. We visited two cement companies (I met two additional cement companies in Karachi, which shows the importance of this sector), one piped gas distributer, and one glass manufacturing company. Later in the evening, we took a Pakistan International Airlines [PIA] flight to Karachi, which was smooth and uneventful.
Badshahi Mosque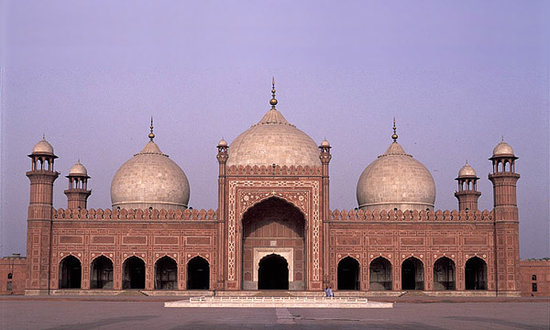 (Source: Tripadvisor.com)
Over the next two days, our group was confined in a meeting room in one of the handful of five star hotels in Karachi, and every 90 minutes, senior representatives from nine different listed companies briefed the group about their businesses and their respective outlooks and answered our questions. The companies represented were from the oil & petroleum, cement (of course), media, power, banking, food and fertilizer sectors. The AFC Asia Frontier Fund is currently invested in three of the nine companies I met. It helped me to gain deeper insight into these companies which resulted later in the month (after researching in more detail with our in-house Senior Analyst, Ruchir in Hong Kong) in some portfolio movements (and brokerage fee income for the organizing Pakistani brokerage company).
During the first evening, the organizing brokerage company took the participants on a tour around Karachi (mainly Clifton) and l.l. Chundrigar Road nicknamed as "the Wall Street of Pakistan." Despite the darkness, I was able to recognize considerable changes in Karachi, especially in the area "Phase 5" and "Phase 6" where several Hong Kong-style skyscrapers (one of them 65 stories tall) have been built since my last visit nearly four years ago, or were still under construction.
Most of these new buildings were for mixed use (office and residential including a shopping mall). After the tour, we had a delicious and relaxing dinner outside in the garden of a French restaurant on the campus of the French consulate.
The following 1½ days I was on my own visiting various companies in and around Karachi. Driving around the city can be very chaotic, sometimes dangerous (our car was hit several times by motorbikes and three wheelers but our driver did not even bother to stop and check the resulting damage) and at times very picturesque. The roads and highways are shared commonly by motorbikes, bicycles, donkey-drawn carts, three-wheeled taxis or "tuk-tuks," small vans, cars and especially by beautifully painted trucks and buses.
Colorful Bus Transportation in Karachi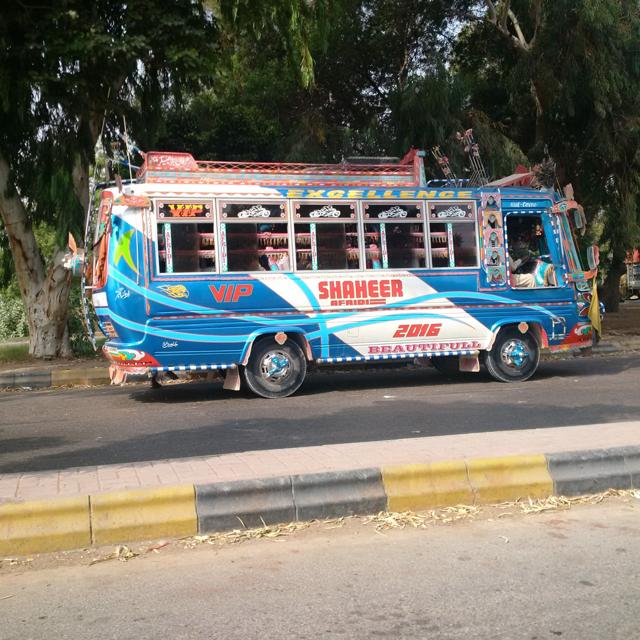 (Source: Asia Frontier Capital)
Road Scene in Karachi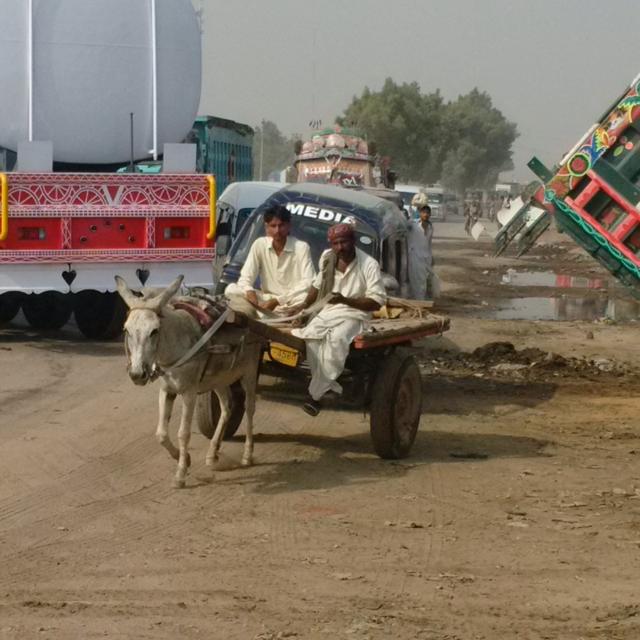 (Source: Asia Frontier Capital)
How on earth can this bus driver still see anything?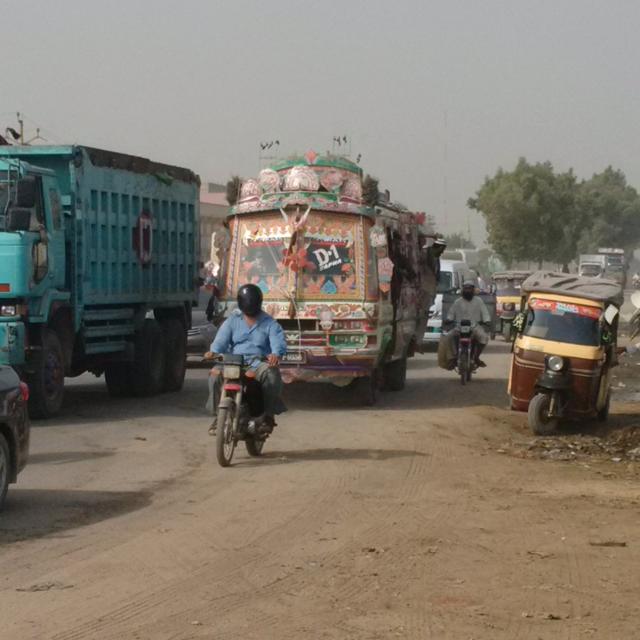 (Source: Asia Frontier Capital)
Our first meeting on the fourth day was a visit to a car assembly plant located in Port Qasim which is 35 kilometers south east of Karachi. It took us about one hour to reach the entrance to the industrial zone adjacent to Pakistan's second largest port, and another 30 minutes to find the factory as got lost several times [even while using Google Maps (NASDAQ:GOOG) (NASDAQ:GOOGL)] due to the size of the industrial park.
During the entire trip, I experienced a complete change in the attitude and future business outlook of the senior businessmen compared with my previous visit to Pakistan nearly 4 years ago. During my last trip, most of the companies suffered from a severe energy shortage, lack of government support and severe security issues. I distinctly remember meeting one of the sponsors of a major car factory over coffee and his complaints over falling monthly car sales without any possible turnaround in sight. That has all changed since Nawaz Sharif was elected as the new Prime Minister in June 2013. Some of the local car assembly factories are now operating at over 110% capacity!
The major buzz word during my visit was "CPEC" which stands for "China-Pakistan Economic Corridor" and is a collection of projects, many of them already under construction, in the amount of at least USD 51 billion financed by the Government of China, Chinese banks or Chinese companies. The goal of CPEC is to create trade and investments along a route which connects China's most western city Kashgar with Gwadar in the South of Pakistan where a major port just started operating a few days ago.
Investments will be made in highways, railways, ports, power plants and pipelines. This will rapidly expand and upgrade Pakistan's infrastructure as well as deepen the historically excellent relationship between China and Pakistan much to the dislike of India, which has already resulted in heightened tensions recently between the two arch rivals.
For a businessman in Pakistan, CPEC is obviously fantastic news since he will be able to operate, for example his textile company, in the future for 24 hours/7 days a week compared with maybe a maximum of 14 hours a day (due to a cut in power supply) just a few months ago. Needless to say, this expansion will create new jobs, additional investment, and capacity upgrades, which will attract more foreign investment down the road after already reaching USD 2.6 billion in 2015.
We at Asia Frontier Capital believe that CPEC could be THE "game changer" for Pakistan and therefore, we have already positioned our Pakistani equity portfolio in the AFC Asia Frontier Fund towards companies benefiting from CPEC immediately and from future increased investments in the country.
Another additional "boost" for the Pakistani stock market will be the inclusion of Pakistan in the MSCI Emerging Market Index as of June 2017, which will lead to an estimated inflow of around USD 500 million from passive emerging market funds into the bourse which is trading at an estimated forward P/E of just 9.7x.
What a change compared with my last visit to Pakistan at the end of 2012, when I ended my travel report with the sentence, "despite problems on Pakistan's surface, the visit made it clear to me that a contrarian investor looking in the right places can find lucrative stocks and attractive sectors in the country!"
I am very excited to be visiting this completely misunderstood country again in 2017 to witness its economic and social progress.
Unfortunately, there are not too many choices for international investors today to access this promising stock market.
Here are some options (all performance figures are from Bloomberg):
– Global X MSCI Pakistan ETF (NYSEARCA:PAK): This ETF is underperforming like many other frontier ETFs. Since its inception on 23rd April 2015, this ETF is up from USD 15.45 to USD 17.03 as of 9th December 2016 or +10.22%. In the same time period, the KSE 100 Index was up 27.4% in USD.
– BMA Pakistan Opportunities Fund (Cayman Islands): This fund is underperforming the KSE 100 Index in USD grossly since inception but its relative performance has improved a lot since 2014.
– Tundra Pakistanfond: This fund is denominated in Swedish Kroners [SEK] and has a performance in USD since its inception in November 2011 of +184.9% (in USD) versus the KSE 100 Index which is up 212.8% in USD.
– various GDR or ADR shares listed outside of Pakistan like:
Pakistan Petroleum ADR (OTC:PKKKY)
Pakistan Telecommunication ADR (OTC:PKTLY)
Or regional emerging market funds or frontier funds like:
AFC Asia Frontier Fund: The Pakistan equity allocation is currently 24.9% and has other promising country allocations like Vietnam (28.8%), Bangladesh (17.9%) and Mongolia (10.7%) among other countries.
Disclosure:I/we have no positions in any stocks mentioned, and no plans to initiate any positions within the next 72 hours.
I wrote this article myself, and it expresses my own opinions. I am not receiving compensation for it. I have no business relationship with any company whose stock is mentioned in this article.